Within this article from The Times of London it is implicated that police in India may be carrying out contract killings under the guise of police work. According to the article, certain members of the police in India are killing unarmed suspects and lying about what happened in order to forgo trials and paperwork. Most of these episodes were hard to prove because there was no hard proof of what had happened. Well finally an info warrior in India took a series of pictures that shows what happened to the latest person gunned down by cops in the northeastern state of Manipur.
Five of the pictures were published by The Times of London on their website. Below are the pictures and the article. One of the pictures is kind of graphic though not as bad as you would think. I have seen PG-13 movies with worse gore than the last of the five pictures.
This episode in India gets me to thinking about whether or not some of the police in this country might be carrying out contract killings or contract life ruining arrests, where even if the person is completely innocent their life is still ruined. The NWO uses this tactic all the time to bring down the people that are outing their agenda's. So many courageous whistle blowers have been murdered for bringing us the truth in America. It is really disheartening that people do not take their messages seriously. Obviously if they were not telling the truth, they would have not been killed. People in this country really need to wake up about the New World Order, the Alien/UFO Agenda's and the truth about our spirit souls. The people that control us know these truths and they keep them from you to keep you unhappy and in the darkness. The more unhappy we are the more they can control us and the less successful we will be, which means more money for them.
Articles like the one below should be a wake up call for people around the world. If you still think that all is well in our world, please stop being delusional, things are far from being good for any of us.
Pictures show broad-daylight 'killing' of suspect by Indian police in market
http://www.timesonline.co.uk/tol/news/world/asia/article6741332.ece?token=null&offset=0&page=1
click on picture to see them in full size.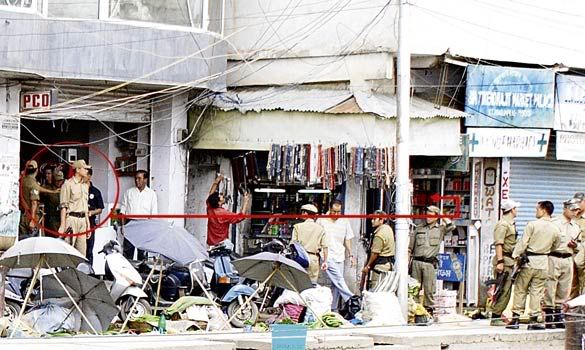 Chongkham Sanjit, 27, is arrested by police commandos in a post office in the capital of Manipur, northeast India. The red arrow shows his short journey from arrest to the place of his daylight killing
Mr Sanjit is apparently going willingly with the commandos who have arrested him. He does not appear armed, as was claimed by the officers after his death
But an officer reaches for his pistol as Mr Sanjit is escorted. They are standing barely 500 metres from the state assembly
Then Mr Sanjit is dragged by the commandos into the pharmacy, where he is apparently killed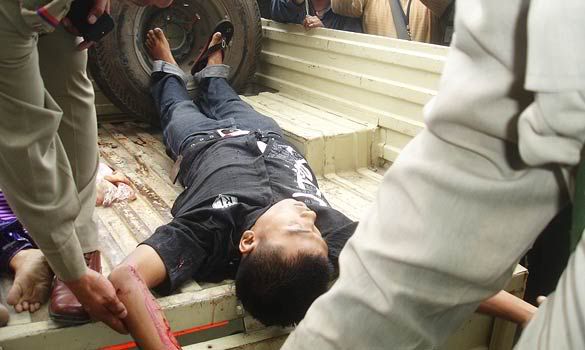 Mr Sanjit's dead body is then thrown into a truck. On the left is the body of a pregnant woman caught in the crossfire of an earlier police shootout
by Times Online
Indian police have been photographed apparently carrying out an extra-judicial killing of a hospital attendant in a busy market in the first such exposé of a practice that rights activists say is increasingly rife within the country's police force.
The police originally said that they shot dead Chongkham Sanjit, 27, when he fired on them as they were chasing him through the market in the northeastern state of Manipur, on the border with Burma, on July 23.
The Manipur Police Commandos said they had recovered a 9mm Mauser pistol from the dead man, whom they accused of being a member of a banned separatist group — one of
But photographs published by the Tehelka investigative magazine clearly show police commandos approaching an unarmed Sanjit, frisking him and bundling him into a pharmacy, as one officer reaches for his pistol.
The officers are then shown dragging out his corpse moments later and loading it on to the back of a truck alongside that of a pregnant woman shot dead in the crossfire of an earlier police shootout.
The apparent killing took place in broad daylight — at about 10.30am — and only 500 metres from the building where the legislative assembly was meeting in Imphal, Manipur's capital.
Tehelka said the images had been taken by a local photographer, who did not dare publish them in Manipur for fear of recrimination from the local police.
Human rights campaigners said it was the first time they could remember there being such incriminating visual evidence of what in India is known as a "fake encounter killing".
"Is this the first time there has been such compelling evidence? I'd say yes," Meenakshi Ganguly of Human Rights Watch told The Times.
Suhas Chakma, Director of the Delhi-based Asian Centre for Human Rights, said: "This is the first case where the actual killing has been caught on camera." Police in India often kill people in "fake encounters" — staged shootouts with alleged suspects — but it is usually almost impossible to prove because they always claim that the victims were armed.
The practice began in the 1980s as a way to eliminate dangerous suspects whom police said could not be convicted in court because of widespread corruption and witness intimidation.
On Tuesday, Human Rights Watch published a report documenting a range of human rights abuses committed by Indian police, including aribtrary arrests, torture and extra-judicial killings.
"India is modernising rapidly, but the police continue to use their old methods: abuse and threats," said Brad Adams, Asia director at Human Rights Watch. "It's time for the Government to stop talking about reform and fix the system."
The local government in Manipur originally stood by the police, who claimed that Sanjit had pulled out a pistol after they tried to frisk him, and then fired at least four shots, accidentally killing the pregnant woman bystander.
But after several days of violent protests across Manipur, and the publication of the photographs, the Government has now suspended the six police officers involved and ordered a judicial inquiry.
Okram Ibobi Singh, Manipur's Chief Minister, said he had been misled by his own police chief.
"I admit I said Sanjit was an active member of the separatist People's Liberation Army (PLA), because that is what the police chief told me," he told a news conference.
"Now I know he had surrendered and apparently was not involved in the activities of his former organization." Sanjit is reported to have left the PLA on health grounds in 2006, and to have been living with his family and working as an attendant in a private hospital ever since.
"Further action will depend on the outcome of the judicial inquiry," the Chief Minister said.
However, activists warned that a judicial inquiry could take years, and that members of the security forces accused in several previous cases had yet to be held to account.
Securing convictions in such cases is particularly hard in Manipur because it is covered by the Armed Forces Special Powers Act, which allows security forces to arrest, torture and kill without fear of prosecution.
Mr Chakma of the ACHR said that he had documented 19 encounter killings in Manipur last year alone and more than 50 over the past five years, the highest number for any state in India.
"Wars May Come and Wars May Go But Art Is Forever."